What's Really Going On? Actress Tessa Thompson Opens Up About Being Bisexual And Her Relationship With Janelle Monae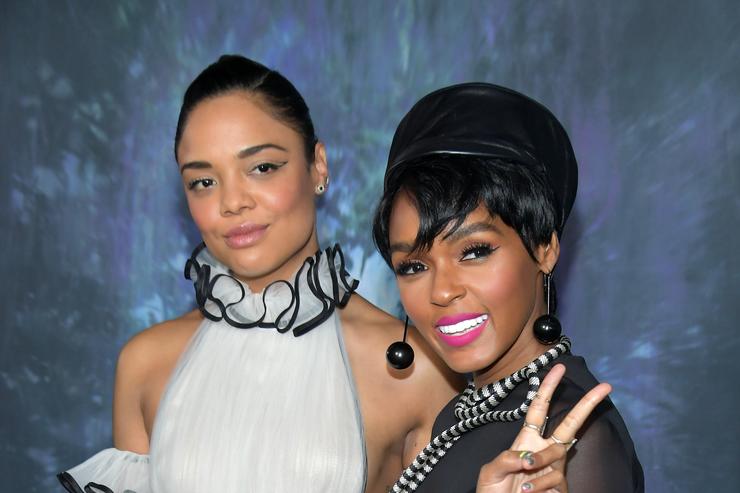 Ever since Janelle Monae released her third studio album entitled Dirty Computers the streets have been buzzing about the singer's close relationship with actress Tessa Thompson. Tessa appeared in multiple music videos which openly celebrated sexual fluidity and feminism. The songstress also recently came out as pansexual during her Rolling Stone cover story.
Well in a candid interview with Net-a-Porter, Thompson took a page out of her bff's book and revealed that she is also a member of the LGBTQ community. She opened up about being bisexual and her close relationship with the songstress.
"It's tricky, because Janelle and I are just really private people and we're both trying to navigate how you reconcile wanting to have that privacy and space, and also wanting to use your platform and influence," says Thompson. "I can take things for granted because of my family – it's so free and you can be anything that you want to be. I'm attracted to men and also to women. If I bring a woman home, [or] a man, we don't even have to have the discussion." She pauses in her dissection of a chunk of avocado toast, and puts down her knife and fork. "That was something I was conscientious of in terms of this declaration around Janelle and myself. I want everyone else to have that freedom and support that I have from my loved ones," she continues. "But so many people don't. So, do I have a responsibility to talk about that? Do I have a responsibility to say in a public space that this is my person?"
She continues,
"We love each other deeply," she says. "We're so close, we vibrate on the same frequency. If people want to speculate about what we are, that's okay. It doesn't bother me."
Of course at first site many outlets took that tidbit of info and ran with the story that she and Janelle were indeed in a relationship even though she never specifically confirmed it. Well Thompson may have rained on the pride parade when she tweeted:
Sometimes we cheer so loudly at someone speaking their truth, that we miss what they say. (Here's looking at you media journalism). I didn't say I was in a relationship. But I said lots of other things. All below. One thing I missed — Pride Has No End. x https://t.co/yEd0Ep6K17

— Tessa Thompson (@TessaThompson_x) June 29, 2018
Well, Tessonae if y'all like it we love it!
Written by Debra Oh @The_Ebony_Issue