Cardi B First To See The Unveiling Of World's Most Expensive Jacket Valued $10M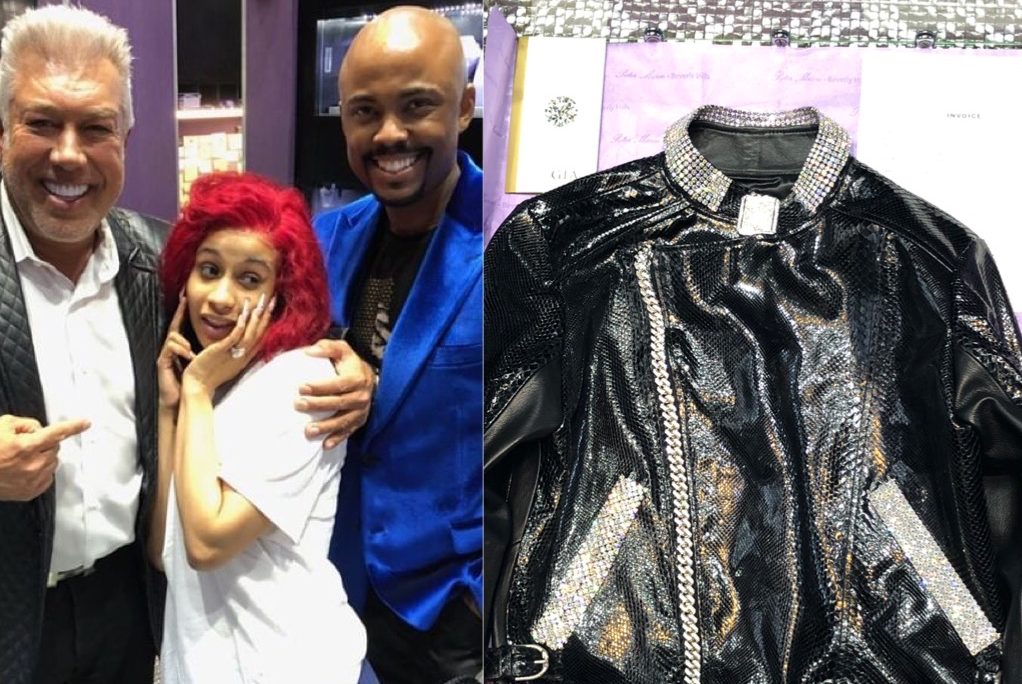 The world's most expensive jacket is here! Valued at ten million dollars, was first seen and featured on multi-platinum recording artist Cardi B for the private unveiling in Beverly Hills, CA, on February 18, 2019, at Peter Marco's world-famous extraordinary jewelry store on the ultra-posh via Rodeo Drive. The first of its kind in any line of diamond bejeweled jackets in the world. It's stunning, to say the least!

Available for purchase at Peter Marco's Extraordinary Jewels (252 N Rodeo Drive 90210). The diamond bejeweled jacket was designed and created with award-winning fashion designer Farrah Gray. This beautiful jacket is a piece of art, bedazzling over 460 carats of flawless diamonds! It's faithfully a piece that'll never be reproduced. Only the world's supreme trendsetters and tastemakers can appreciate "The One" (nickname) jacket.
Constructed with the uttermost bespoke 100 percent black python leather featuring a posh, silk interior lining and snakeskin zippers. This beautiful and handsome jacket was handmade using the finest of quality materials and fabrics from around the world. Sewn together by Peter Marco with GIA certified diamonds which makeup 99% of the jackets total carat weight! A one-of-a-kind art installation, exhibition piece and the ultimate red carpet affair jacket, for the extraordinaire with $10 million dollars to spare!

The opulent man can wear it or woman who yearns quality, taste and extravagant stunning works of art, while rubbing shoulders with their elite colleagues or business associates. It sets a new world record as well as a new standard of high couture fashion and wearable art.

Viewings are by appointment only! The affluent buyer will be fitted and tailored by Farrah Gray. A percentage of the proceeds will go to several charitable organizations of the purchaser's choice. Along with a two-year all-inclusive warranty by Peter Marco. Available now, exclusively at Peter Marco's Extraordinary Jewels Beverly Hills!