Letter To Stevie J & Joseline Hernandez: Esposed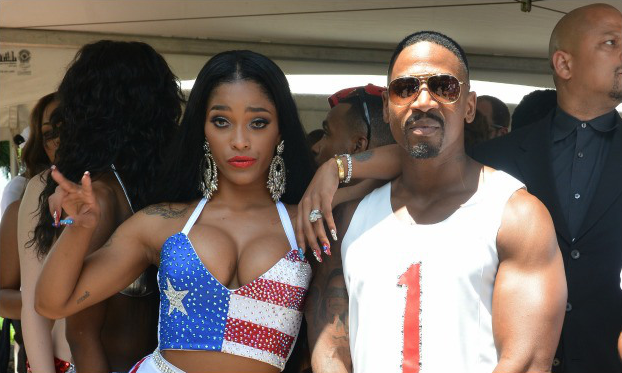 "I don't even know how to spell a non word like "Esposed," but clearly Joseline think it's in the dictionary.
We have watched Joseline Hernandez and Stevie J pretend to be iconic reality stars for three season's on Love And Hip Hop Atlanta but in REAL life, they look like complete fools. Joseline I understand you came from nothing so the opportunities that are being thrown your way is like winning a nobel peace prize. However, can't you see how ridiculous you look on TV?
Stevie J you are considered one of the most talented producers in the music industry, you were the force behind the original hits of Diddy's Bad Boy Records during the golden age of hip hop. Love And Hip Hop Atlanta was your chance to claw your way back to the top. However, you have allowed yourself to get so caught up in drama that you have completely destroyed your credibility.
The viewers of Love And Hip Hop have watched you disrespect and destroy the mother of your child, chasing her into the arms of a loser like Nikko who clearly leaked the sex tape. MiMi was once considered a respectable hard working mother and is now viewed as an attention seeking, money hungry, reality TV porn star. It's sad because that woman is beautiful in my eyes. She's a 9.5 if you ask me. A few booty shots and she's a 10!
How do you think Eva is going to look at you when she gets of age to understand what's going on? She isn't going to blame MiMi, she's going to blame her father who as a man it's your job to protect the both of them. Yet your focus has been running around channeling a low budget Ike and Tina Turner with a former stripper/prostitute who has zero talent other than exploited her body that she wasn't born with.
There has been three season of Love And Hip Hop Atlanta and you two have not even started a successful business to promote while being watched by over 7 million viewers and one the most talked about reality shows on social media going viral every week. You could have at least launched a t-shirt line with Joseline's most dumb ignorant quotes on them or something. The two of you combined are at least sitting on 3 million followers on social media. You guys could be making a killing on some type of business venture.
I'm sure the booking fees from club appearances are good and keep you guys in designer clothing, renting mansions and leasing luxury cars. Clearly the money isn't rolling in as you guys try to make the people think it is since Stevie is still behind in child support payments. If the money is rolling in like that and you haven't made those payments then that would reflect even worst on your character.
Lets think about the long run because Love And Hip Hop Atlanta isn't going to be hot forever and I'm sure Joseline would not like to be a 40 year old stripper in the "Schrip" Club eating p**** for tips. "Steebie" I know you don't want to be back on the Atlanta metro bus rocking her ex boyfriend's Enyce velour sweat suits again.
During the three seasons of the show, the majority of your come ups have been given to you by Benzino. Sleazy Zino's Bistro and Lounge had the fastest grand opening and closing in Atlanta history. Being partner of Hip Hop Weekly Magazine was over before you and Joseline woke up from your cocaine cat nap. I just hope these antics are completely made up for TV. It would be sad to know your character allowed you to cross that man who clearly had your back when no one else did.
Now lets talk about this substance abuse "prolem" as the Puerto Rican princess would say. I smoke blunts too and I have never been in the state that you two appear to be. It's clear that you guys are snorting that white girl because she has taken over your bodies and had you two dancing off beat during the reunion. I mean Joseline is attacking everyone but could not connect a good hit. And you were just all over the place, I mean did even pinch a muthafucka. I must admit, it was more sad to watch than entertaining.
Stevie you are destroying your legacy and will eventually go down in history as a man who destroys women. Joseline you are destroying your chance at being able to truly obtain your dream of being a successful latin artist. Don't be a victim of reality TV by allowing the drama to surround and drown your dreams. I mean wasn't that the plan in the first place to use Love And Hip Hop Atlanta to push your careers to the next level?"