Madonna and Tory Lanez Spotted Together at Barclay Center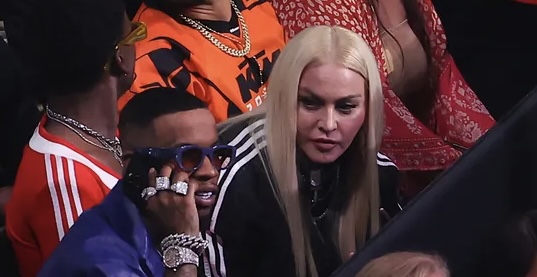 Last night, was the championship boxing match between Gervonta Davis and Rolando Romero but there's another matchup causing chatter.
Surprisingly spotted together amongst the people who stepped out to watch this highly anticipated boxing match, was Tory Lanez and the original "Material Girl" Madonna.
There is no clear consensus on their relationship status but of course people are speculating and rumors are spreading that 63-year-old Madonna and 29-year-old Lanez are messing around.
It's no secret that Madonna is a celebrity cougar.
In a 2015 Daily News interview, when asked about dating younger men she said, "it's just what happens." Madonna also stated, "most men my age are married with children. They're not dateable. I'm a very adventurous person and I also have a crazy life. I'm a single mother. I have four children. I mean, you have to be pretty open-minded and adventurous to want to step into my world. People who are older, and more set in their ways, are probably not as adventurous as someone younger."
Madonna's ex-husband, Guy Ritchie, was 10 years her junior. Since their split, she's been connected to many younger men including her former backup dancer, Ahlamalik Williams. They met in 2015 but made it official in 2018. Many people pointed out the almost 40 year age gap between the couple, but they were completely unbothered.
Unfortunately that relationship just ended Spring, 2022 and now there's talk that Madonna has shifted into Tory's lane.
However, they might just be working on new music… What do you think?