Mo'nique Punched Steve Harvey In His Face? [VIDEO]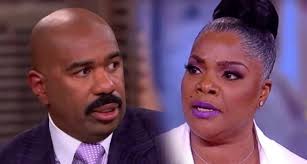 It's no secret comic and actress Mo'nique doesn't hold back on her comments on Hollywood and other celebrities, but now it appears she's ready to take it up a notch and get physical.
Multiple news reports have her telling popular host Steve Harvey she'd punch him smack in the face. The argument apparently started on the set of Steve Harvey's daytime talk show during her interview with him on the set.
She accused him of failing to talk about or promote her new comedy show in Las Vegas. Initial reports said Monique wanted to slap Harvey, but later Monique told Cinema Scope that she wanted to PUNCH him! Reports indicate that the testy relationship between the two comics has gone on for years – it's nothing new.
However, there are rumors that Harvey's daytime show may be cancelled this Fall. Watch for the episode with Monique on Harvey's show in a couple of weeks. Meanwhile, Monique has started a residency at the SLS in Law Vegas.
Earlier this year, she asked fans to boycott Netflix for alleged racial and gender bias after the popular streamer offered her half a million for a comedy special. She felt the amount was "disrespectfully low," reports Essence. Monique said the amount was low compared to the amounts offered Chris Rock, Dave Chappelle and Amy Schumer.
Check out the video below at the 6:00 min mark where she speaks on the incident.