Chris Brown Wants To Fight Offset But Migos Rapper Says His Only Win Is Rihanna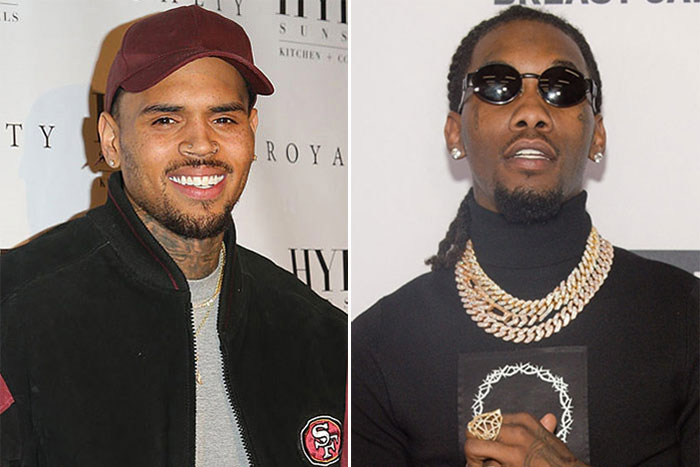 If you think the feuds between Wiz Khalifa, Kanye West, etc. were rough, check out the action going down involving Chris Brown, Offset and 21 Savage. In case you missed the news, 21 Savage was held up – taken into custody in fact – by ICE (U.S. Immigration) over some nonsense with his visa. (Today, Jay Z hired 21 Savage an attorney to assure he gets out in time for this weekend's Grammys). Anyway, the story goes that Brown went on social media to make a joke about 21 Savage's predicament (turns out he's from the U.K., not Atlanta).
Well, Migos rapper Offset didn't think Brown's joke was so funny. Offset called out Brown, and called him "lame" for his shot, albeit intended to be humorous, at 21 Savage.
Brown didn't much like the shade from Offset and blew into a tirade. It goes like this: F*** you lil boy. Better worry about what u got going and focus on you. All this cap on IG us what's lame. You energy won't like that when I came to the Drake show in L.A. If u don't get yo a hip hop a hibbet a hibbet to the hip hip hop and y don't stop the rockin faceass out my comments. Sensitive ass nigga. Call me personally. U want some clout when all u gottta do is pull up. No camera, no flexing and all at!!! If u a real me, fight me. Oh, and another thing. Suck my dick!!!"
Offset replied on Instagram with: "Coke head don't want (smoke)," allegedly taking a swipe at Brown's alleged drug use. Stay tuned!