Usher Breaks Down At Drummer Aaron Spears Funeral; "He Was My Hero"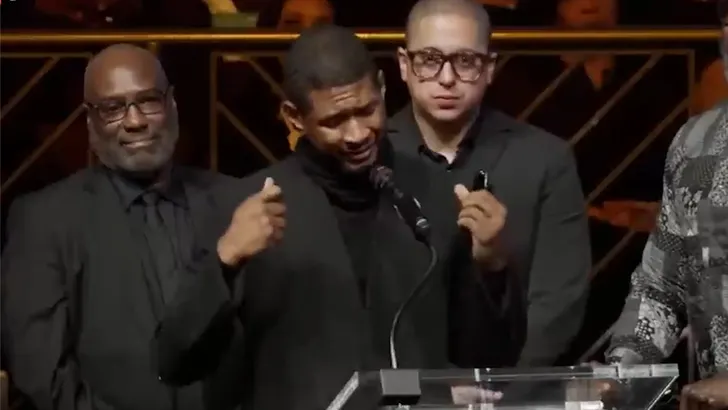 Usher Pays Emotional Tribute to Late Drummer Aaron Spears.
In a heartfelt farewell to his longtime friend and drummer, Aaron Spears, Usher couldn't hold back his tears as he honored the Grammy-winning musician's life after his sudden passing.
The emotional moment unfolded at the First Baptist Church of Glenarden Worship Center in Maryland last week, where Usher praised Aaron as an "amazing force." The singer expressed gratitude to Musical Director Valdez Brantley for bringing them together.
While wiping away tears, Usher conveyed that Aaron would forever hold a special place in his thoughts. He also pledged to support and love Aaron's grieving family as if they were his own.
Despite the sorrow, Usher shared a lighthearted memory of his friendship with Aaron, recalling moments when the drummer showcased his skills with a playful competitiveness. "He follows me everywhere I go, and I was like, 'Man, you caught that?! … you cold bro! You the worst'," Usher recounted with a touch of humor.
Putting his shades back on, a tear-stricken Usher concluded his eulogy by reminiscing about Aaron's unwavering encouragement, noting, "He would say, 'Man, you gonna be alright … he would say tonight is going to be the most incredible night ever!"