Vanessa Bryant Goes off On Nike For Selling The Shoe She Designed In Memory of Her Daughter Without Her Permission
I don't think Nike will be able to public figure their way out of this one.
Vanessa took to instagram earlier today to get some words off of her chest about Nike. If you're caught up you know that Vanessa just recently debuted her sweatsuit line in memory of her daughter Gianna Bryant who was involved in a fatal Helicopter crash, with her dad Kobe Bryant. The sweatsuit line is named "Mambacita" after her daughters on the court nickname.
According to the post by Mrs.Bryant ,last year she decided to part ways with Nike. This interrupted the release of this sneaker but it appears that an unknown person was able to get their hands on a pair, and its unclear how.
"I wanted it to be sold to honor my daughter with ALL of the proceeds benefiting our @mambamambacitasports foundation but I did not re-sign the Nike contract and decided not to sell the shoes," wrote Vanessa. Vanessa even made it clear that Nike had no permission to even make any pairs of the shoe, especially if she nor her daughters had not received a pair first. " I don't know how someone else has their hand on the shoe I designed in honor of My daughter, Gigi and we don't. I hope this shoes did not get sold @nike," continued Vanessa.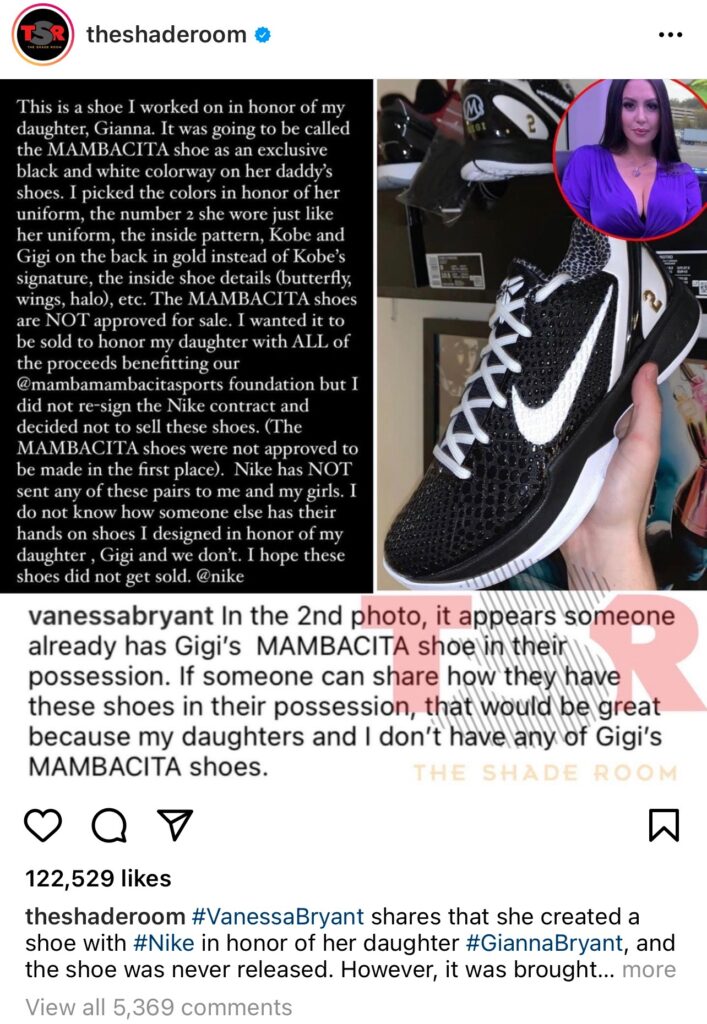 click link for full post. https://www.instagram.com/p/CPqEP6zBAbh/?utm_source=ig_web_copy_link
Its unclear wether the shoe is real or fake or if Nike is responsible for this disrespect, but Im sure Vanessa will get to the bottom of it, we all know she means business when it comes to her family!